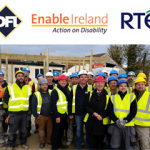 DFL played a major part in the hour long special of "At Your Service – To The Rescue" which was commissioned by RTE as part of their Christmas Schedule in conjunction with Ireland's top hoteliers John and Francis Brennan.
It was a "Challenge Anneka" type project where DFL provided management staff and tradesmen to deliver two major renovation and refurbishment projects for Enable Ireland in Sandymount and Sandyford, both of which were delivered in record time without charging for labour or materials, and much of which was supplied by DFL directly or through our regular sub-contractors and suppliers.
At the end of an 80 hour week on both sites the staff and users were invited to see the finished projects and as you will have seen from the TV coverage there was an overwhelmingly positive response from all concerned… another 2 quality projects successfully delivered safely and on time! And the fact that there was no budget makes this an even greater achievement!!

If you didn't see the DFL team in action over Christmas you can watch it on the RTE player. (Available untill 23/1/15)